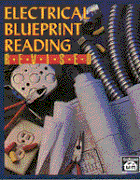 Shows how to read and interpret electrical drawings, wiring diagrams, and specifications for constructing electrical systems. Shows how a typical lighting and power layout would appear on a plan, and explains what to do to execute the plan. Describes how to use a panelboard or heating schedule, and includes typical electrical specifications.

208 pages, 8-1/2 x 11


Back Cover:

Electrical Blueprint Reading, Revised
by Taylor F. Winslow
Revisions and new illustrations by E. Glenn Engineering

Whether you're studying to be an electrician, or a seasoned professional looking to improve your blueprint-reading skills, this newly-revised manual will help you stay competitive in today's electrical job market. It shows you how to read and interpret all types of electrical drawings and diagrams used in residential and commercial construction. There are details on electrical floor plans, lighting layouts, and schematics showing single line and block or power-riser diagrams for wiring circuits. You'll learn how to lay out an electrical project, what to look out for in dealing with construction specifications and drawings especially in terms of today's technology, how to use an engineer's scale for developing and reading site plans, and how to make up and use panelboard, connected-load, and other schedules.

This new edition provides:
Dozens of drawings, diagrams, and blueprint reproductions, recently redrawn and updated
Sample electrical specifications and forms
Sample problems and a Final Exam (answers included)
A glossary of terms and a guide to electrical symbols
Reading a blueprint is like reading a road map. It tells you exactly what you're required to build. Read it wrong and you'll build it wrong - and that can be expensive. This book will teach you how to get the information you need from the most complex electrical blueprints. Once you understand how to follow the pathways and interpret the scale and symbols, you can install the correct system the way the designer intended. Keep this book as a handy reference. Once you've learned the techniques it explains, you'll no longer face the bewilderment and frustration of having to build from electrical blueprints you can't read.






Calculated Industries ElectriCalc Pro 5070 - Updateable National Electrical Code Calculator



Commercial Electrical Wiring to the 1999 NEC