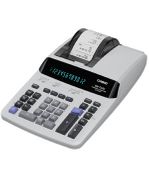 Super fast and quiet for high volume office use. The DR-T120 prints 8 lines per second.


Features:
Addition & Subtraction by Group
Date and Time Display
Decimal x+F02346
Round off/Cut off
Independent Memory
Non-Add
Constant calculations
Independent Add Register
Grand Total
MU/MD
Feed
Right Shift Key
Item Count
Average
3-digit separator and printing
00 Key
Multi %
Repeat addition, subtraction
ADD mode
Paper: Thermal Paper built-in
Power: Type AC with Battery back-up
Dimensions: 3-1/2" x 8-1/2" x 13-3/4"
Weight: 3.7lbs.



Casio DR-T220 12 Digit 8.0 LPS Thermal Printing Calculator