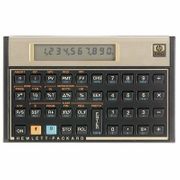 Used and Refurbished options are available. They include only the calculator and batteries - no case or other accessories.
With the HP12C's financial functions, plus math and statistics, business professionals have been able to calculate mortgages, balloon payments, depreciation, and bond yields for more than a decade. HP12C features essential financial and math functions like time value of money, amortization, bond price and yield tomaturity,register-based cash flow analysis, cumulative statistical analysis, standard deviation, mean, weighted mean, Linear regression, and forecasting. Includes simple keystroke programming. Just enter a series of keystrokes into the memory, then execute your program at the touch of a button. The memory has the capacity for up to 99 steps.

Features:
Over 120 built-in functions.
Business/Financial Features
TVM (loans, savings, and leasing).
Amortization.
Bond price and yield to maturity.
Register based cash flow analysis NPV, IRR.
Memory for 20 cash flows.
SL, DB, SOYD depreciation methods.
% change, % of total.
Statistical/Mathematical Features -
Cumulative statistical analysis.
Standard deviation, mean, weighted mean.
Linear regression.
Forecasting, correlation coefficient.
Time and Data Management -
Date arithmetic.
Customizing Feature -
Keystroke programming.
Memory capacity - 99 steps.
Physical and Operating Features -
1 line x 10 digit LCD display.
Entry-system logic.
Size = 12.70 x 7.87 x 1.52cm ( 5x3.1x0.6in ).
Comes with Owner's Manual, batteries, and carrying case.



Hewlett Packard HP-12C Platinum RPN and Algebraic Programmable Financial Calculator



Professional Real Estate Problem Solving Using the HP-12C - A Step by Step Approach