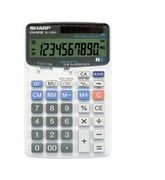 9/25/17 - Now out of stock.
Twin-Powered Semi-Desktop Calculator with Extra-Large Display.

Features:
Extra-large Display: 10-digit (16.0 mm) LCD display with punctuation.
Twin Power Solar Operation automatically switches from solar to battery power in low light.
4-Key Memory includes memory plus, memory minus and recall memory, and clear memory keys.
Additional Features: + tax and - tax keys, percent key, answer check function, decimal point mode (F,3,2,0,A,5/4,V), sign change keys, constant, and variable tilt display.