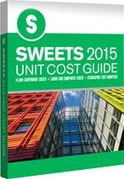 Labor, materials, and equipment prices have been calculated from the average cost of actual jobs completed in thousands of locations nationwide and presented in CSI MasterFormat Geographic Cost Modifiers -- the industry standard for estimating. Over 14,000 updated component costs - for virtually every area of residential and light commercial construction.

With this valuable resource, you'll be able to calculate overhead, profit, and productivity rates. A handy geographic conversion table is included so making adjustments for local costs is a snap.

Provides contractors, architects, engineers, and all other business professionals the highest available level of precision in predicting construction costs for: sitework, concrete and masonry, woods and plastics, thermal and moisture protection, doors and windows, finishes, specialties, equipment, furnishings, special construction, conveying systems, mechanical systems, and electrical systems.






Calculated Industries Construction Master Pro 4065 - Advanced Handheld Jobsite-Math Calculator